If you were falling toward a black hole, most of the time you would
simply feel weightless
. The gravity of a black hole is just like the gravity of any other large mass, as long as you don't get too close.
Suppose you were falling feet first toward a black hole. As you got closer, your feet would feel a stronger force than your head, for example. These differences in forces are called
tidal forces
. Because of the tidal forces it would feel as if you are being stretched head to toe, while your sides would feel like they are being pushed inward. Eventually the tidal forces would become so strong that they would rip you apart. This effect of tidal stretching is sometimes referred to as
spaghettification
.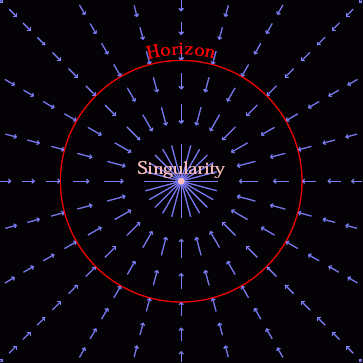 A friend watching you fall toward a black hole would never see you reach the black hole. As you fall towards it, gravity would cause any light coming from you to be
redshifted
. So as you approached the black hole you would appear more and more reddish, and your image would appear dimmer and dimmer. Your friend would see you redden and dim as you approach, but never quite reach, the event horizon of the black hole. If they could still see you past this point, there would be additional red from the inside of you clouding up the view.
Interesting:
The larger the black hole, the weaker the tidal forces near its event horizon. So if you happened to be near a supermassive black hole, you could cross the event horizon without really noticing.